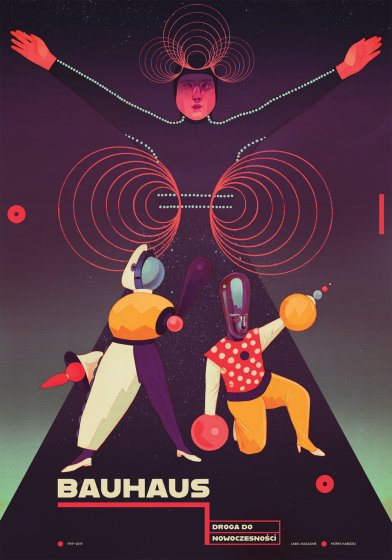 Patryk Hardziej – The Bauhaus. Road to modernity
This is what the artist said about his poster: "Conversations about the Bauhaus typically revolve around architecture, typography or abstract art. What we should not forget is that the human was always at the heart of the movement. Schlemmer's theatre was an ideal combination of the human touch, idealism and the school's avant-garde attitude. My poster is an original interpretation of the notion of the Bauhaus. Road to modernity where Schlemmer's figures indicate the source i.e. Art Nouveau with its aim of functionality and universal artwork. On the other hand, my work touches upon the motifs introduced by the Bauhaus, reflected in Fritz Lang's Metropolis".
Details
Dimensions

700 x 1000 mm

Shipment

5 days

Paper

Gloss 250 g/m2 (IJM808)

Limited edition

10 pieces
Patryk Hardziej is an illustrator, graphic designer and researcher. He teaches at the Academy of Fine Arts in Gdansk and has originated "The Art of Design", a series of classes under the patronage of Karol Śliwka. Originator and curator of the Second Polish Exhibition of Logotypes, an international exhibition of Polish design held in five countries, deemed "Project of Year 2016". Co-curator of the "Karol Śliwka. Polish Designs. Polish Designers" exhibition (Gdynia City Museum), deemed project of year 2018 in graphic design. He has cooperated with Amnesty International, British Airways, BMW, Costa Coffee, Coca-Cola, Mini, New Scientist Magazine, Bertagnolli, Mondadori Libri, Zachęta National Gallery of Art, New Zealand's Ministry of Civil Defence and Emergency Management. Cooperation with twenty artists has resulted in unique designs available in a limited edition of ten copies of each poster available from the LABEL shop. In total, there are 200 posters for 100 years of the Bauhaus. Each poster is an original and unique interpretation of the Bauhaus assumptions, concepts and style which have made an invaluable contribution to modern architecture, art and design. Each poster is a separate story of the rich history (and the present) of the Bauhaus. Together, they make an extraordinary collection commemorating the influence of the Bauhaus on how we think about design and architecture. One of the posters, designed by Andrzej Pągowski, depicts Walter Gropius and has been selected for the cover of LABEL #35. Within a year, the initiative will be accompanied by a series of exhibitions in the PURO Hotels chain. The first exhibition will be held in May this year, during the Łódź Design Festival. A part of the sales profits will be earmarked for the Masław Association which launched the "Tu było, tu stało" initiative.
LABEL Magazine asked the best Polish poster designers and illustrators to cooperate and celebrate a centenary of the Bauhaus with a special collection of posters.