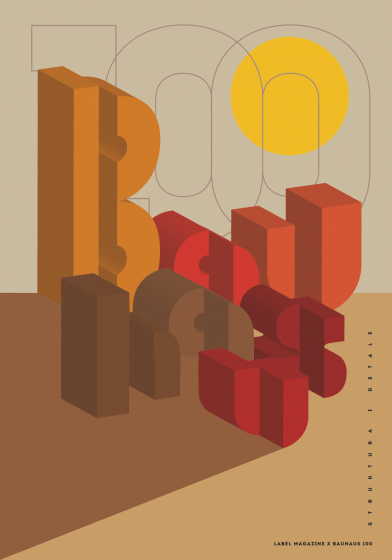 Paweł Rafa – Bau-Haus
The poster is a variation on the semantics behind the word "Bauhaus", a combination of "bau" and "haus" which can be translated as "house of architecture". The lumpy letters are reference to the architecture offered by Walter Gropius, Le Corbusier, Ludwik Mies van der Rohe and other architects who drew on the school's assumptions.
Details
Dimensions

700 x 1000 mm

Shipment

5 days

Paper

Gloss 250 g/m2 (IJM808)

Limited edition

10 pieces
Paweł Rafa, Editor-in-Chief of LABEL Magazine. Graduate of the Warsaw Academy of Fine Arts, winner of many prestigious awards in the Chimera contest, GrandFront (also a juror); he is passionate about exploring the world; the incessantly discovered cultures are his sources of inspiration. Cooperation with twenty artists has resulted in unique designs available in a limited edition of ten copies of each poster available from the LABEL shop. In total, there are 200 posters for 100 years of the Bauhaus. Each poster is an original and unique interpretation of the Bauhaus assumptions, concepts and style which have made an invaluable contribution to modern architecture, art and design. Each poster is a separate story of the rich history (and the present) of the Bauhaus. Together, they make an extraordinary collection commemorating the influence of the Bauhaus on how we think about design and architecture. One of the posters, designed by Andrzej Pągowski, depicts Walter Gropius and has been selected for the cover of LABEL #35. Within a year, the initiative will be accompanied by a series of exhibitions in the PURO Hotels chain. The first exhibition will be held in May this year, during the Łódź Design Festival. A part of the sales profits will be earmarked for the Masław Association which launched the "Tu było, tu stało" initiative.
LABEL Magazine asked the best Polish poster designers and illustrators to cooperate and celebrate a centenary of the Bauhaus with a special collection of posters.